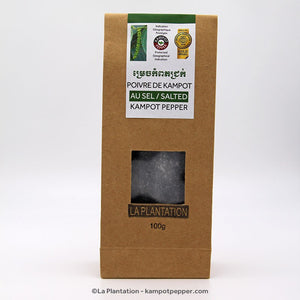 SUOLATTU TUORE KAMPOTIN MUSTAPIPPURI
Käsin poimitut ja tarkasti valikoidut pippurit fermentoidaan tekstuurin ja maun säilyttämiseksi. Tuote suolataan säilyvyyden takaamiseksi ja se tuo herkullisen maun pehmeän pippurin pirskahtaessa auki suussa. Todellinen gourmet-erikoisuus, jota ei voi maistettuaan unohtaa.
Tuote on voittanut useita palkintoja maailmalla ja on La Plantationin kruununjalokivi.
Tuotetta ei valmista koko maailmassa kukaan muu.
MIHIN RUOKAAN
Suoraan pihvin päälle sellaisenaan, koristamaan kermakastiketta, kalan kanssa, tai jopa sellaisenaan olut kyytipoikana.
AROMI
Voimakas ja mausteinen, mutta erittäin aromikas ja kivasti suolattu.
FRESH SALTED KAMPOT PEPPER
Fresh Salted Pepper (Kampot IGP) is an exclusive production of La Plantation. Addictive from the first corn, the Fresh Salted Pepper from La Plantation is ready to consume. The privileged ones who had the chance to taste it have become crazy and crunch it from the aperitif to the dessert.
Available in 100g recycle paper pack for lovers of the product.