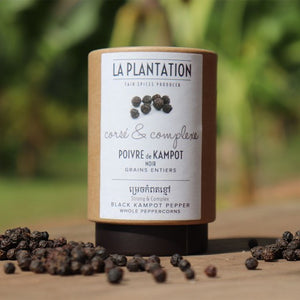 KAMPOTIN MUSTAPIPPURI
Joka vuoden helmikuussa kypsät pippuritertut poimitaan ja puhdistetaan käsin ja aurinko kuivataan 2-3 päivää.
AROMI
Yhtä aikaa voimakas ja hienostunut – täynnä vivahteikkaita aromeja kuten suklaa, minttu ja eukalyptus.
MIHIN RUOKAAN
Liharuokiin, riistaan ja leikkeleiden päälle. Sopii loistavasti pastoihin, esim. cacio e pepe,
Recognized as one of the best peppers in the world, Kampot's Black Pepper is grown traditionally and organically. Each corn has been selected one by one by hand at La Plantation to offer you the best quality. 
Available in 50g recycle paper pack for pepper amateurs